Scaffolding couplers play a pivotal role in construction, particularly in tube and coupler scaffolding systems. Understanding the intricacies of these couplers is crucial for ensuring the safety and longevity of construction projects. In this blog post, we'll delve into the definition, production methods, classifications, and advantages of scaffolding couplers.
what is a coupler scaffold?
Scaffolding coupler, also known as tube couplers, are essential components used for connecting steel pipes in construction. They rely on friction between the coupler and the steel pipe to transmit loads. The production methods involve hot-pressing for both the cover plate and the middle part. The cover plate is stamped from a heated steel plate, undergoes hole punching for bolt insertion, and is shaped by a mouth-expanding machine.
Classifications of Scaffold Couplers
Coupler scaffolding system can be classified based on various criteria:
| | |
| --- | --- |
| Process | Casting, stamping, forging (with varying qualities: Casting > Stamping > Forging) |
| Surface treatment | Hot-dip galvanized, electroplated, painted |
| Purpose | Right-angle, rotating, external, internal, fixed plate, pig ear, cantilever, half-coupler, ladder clamp, mushroom head, etc. |
| Weight | Light-duty and heavy-duty |
| Standards | National, British, German, American, Australian, Italian, Japanese, Korean, etc. |
| Specifications | 4848, 4860, 60*60, and others (referring to the outer diameter of steel pipes) |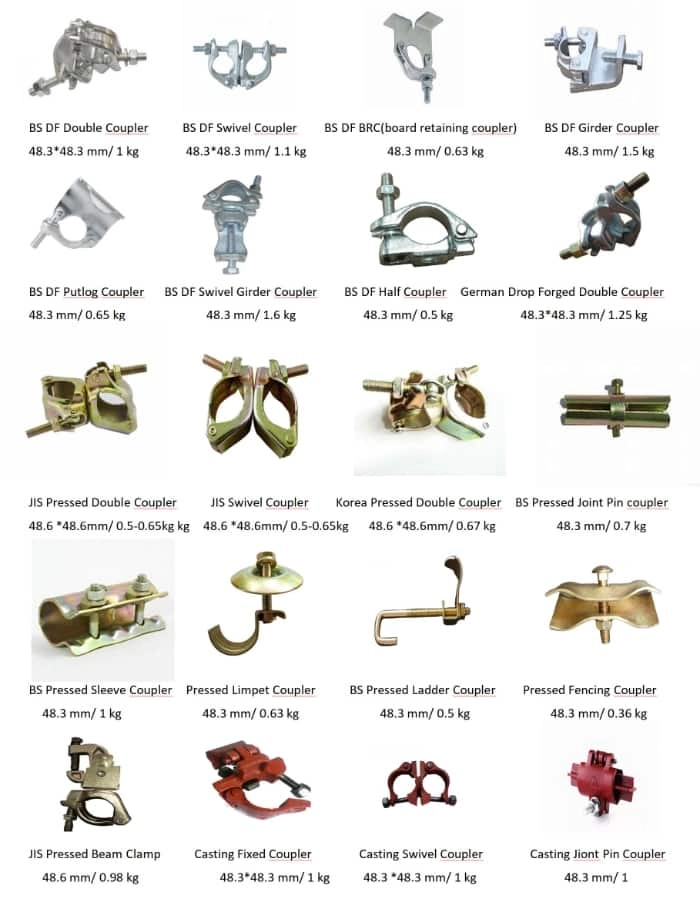 What are the characteristics of scaffold coupling?
Anti-slip functionality to prevent pipe sliding.
Longevity through double anti-rust treatment – galvanization and passivation.
Convenient maintenance, reducing upkeep costs.
Resistance to corrosion, ensuring durability.
As experienced scaffold coupler manufacturers, ensuring the effective and prolonged use of these components involves:
Extending the Lifespan of Scaffold Couplers
Rigorous inspection of external quality, avoiding usage if cracks, deformations, or bolt slippage are observed.
Mandatory sampling and testing of coupler and steel pipe quality before deployment.
Adhering to specified load capacities during construction, avoiding overloading.
Proper handling when connecting scaffolding to formwork supports.
*What can you buy from us?
Fastener and formwork accessories such as wedge pin, mivan stud pin, long pin,thread rod,tie rod and wing nut, swivel coupler,steel prop, swivel clamp, al-bracket, waller bracket, waller clamp, flat wall tie, flat tie, hex bolt, hex nut, stud bolt and wedge anchor bolt.

* Why should you buy from us not from other suppliers?
•More than 20 years experience, sales volume reaches 1.5 billion US dollars.
• Good quality control in production process, ISO9001:2008,SGS,BV approved.
• Excellent quality and Competitive price, OEM is available.
• Available in an extensive range of stock or custom size.
• The whole process from material to finished products can be traced.
• Our factory is close to the port-Xingang,Tianjin.  
Fast delivery to satisfy your urgent project demand.