Description
TYTSTEEL: Your Professional Galvanized Steel Pipe Manufacturer
Supply The Best galvanized pipe/tube Products Since 2001
| | | | |
| --- | --- | --- | --- |
| Place of Origin | Tianjin, China | Processing Service | Welding |
| Brand Name | TYTSTEEL | Oiled or Non-oiled | Non-oiled |
| Application | Fluid Pipe, Boiler Pipe, Hydraulic Pipe, Gas Pipe, OIL PIPE, Structure Pipe | Invoicing | by actual weight |
| Alloy Or Not | Non-Alloy | Delivery Time | 15-21 days |
| Section Shape | Round, square | Product name | dn50 Galvanized Steel Pipe |
| Special Pipe | API Pipe, Thick Wall Pipe | Material | Carbon Steel |
| Outer Diameter | 20 – 219 mm | Surface | Zinc Coating |
| Thickness | 1.5 – 8.18 mm | Keyword | Galvanized Round Steel Pipe |
| Standard | ASTM, BS, GB, JIS, ASTM A53-2007 | Delivery time | Within 7-14 Days |
| Length | 12M, 6m, 5.8m, 1-6.5m, customized | Shape | Round Pipe |
| Certificate | ISO9001, ISO18001, UL, FM | Technique | ERW |
| Grade | Carbon Steel | Usage | Fluid Pipe |
| Surface Treatment | galvanized | MOQ | 10 Tons |
| Tolerance | ±5% | End protector | None or Plastic wrapped |
TYTSTEEL is a professional manufacturer of galvanized steel pipes in China. All the pipes are high-frequency welded. You can find galvanized steel pipes in all sizes (custom diameters, thicknesses, lengths) and materials.
There are hot-dip galvanized steel pipes and pre-galvanized steel pipes. We produce both types of galvanized steel pipes according to BS 1387, EN 39, JIS 3444, and ASTM A53/A53M standards. BV or SGS inspection is available if you require.
All of our galvanized steel pipes are tested for mechanical properties after production is completed. The test includes testing the tensile strength, yield strength, elongation, and chemical elements of the galvanized steel pipe to ensure that its mechanical properties meet the standard requirements. It can meet at least 8 hours corrosion free in salt spray test.
TYTSTEEL-Galvanized Pipe Size List

Side

Side

Thickness

Side

Side

Thickness

Norminal Bore

Outside Diameter

Wall Thickness

mm

mm

mm

mm

mm

mm

DN(inch)

DN(mm)

mm

mm

12

12

0.6-1.0

12

25

0.6-1.0

1/2

15

20

0.5-2.0

15

15

0.6-1.2

15

30

0.6-2.0

3/4

20

25

0.5-2.0

13

26

0.6-1.2

20

40

0.6-2.0

1

25

32

0.6-2.2

16

16

0.6-1.2

30

40

0.6-2.3

1 1/4

32

41

0.6-2.2

19

19

0.6-1.5

30

50

0.6-2.3

1 1/2

40

47

0.6-2.2

20

20

0.6-2.0

25

50

0.6-2.3

2

50

59

0.7-2.3

25

25

0.6-2.0

38

75

0.6-2.3

2 1/2

65

75

0.7-2.3

30

30

0.6-2.2

40

60

0.6-2.3

3

80

88

0.8-2.3

38

38

0.6-2.2

50

75

0.9-2.3

4

100

112

0.8-2.3

40

40

0.6-2.2

40

80

0.9-2.3

5

125

140

1.0-2.3

50

50

0.6-2.3

50

100

0.9-2.3

16

0.6-1.0

60

60

0.6-2.3

50

150

0.9-2.3

22

0.6-1.2

70

70

0.9-2.3

38

0.6-2.2

75

75

0.9-2.3

48.3

0.6-2.2

80

80

0.9-2.3

50

0.6-2.2

100

100

0.9-2.3
Standard length of galvanized pipe
usually the standard length of galvanised pipe is 6 metres (approx. 19.7 feet) or 5.8 metres (approx. 19 feet) as the common
standard length internationally. Special lengths are also supported.
Galvanized Pipe Thickness
The wall thickness of galvanized pipe can vary depending on the needs of the application. Common wall thickness specifications include
0.8mm, 1.0mm, 1.2mm, 1.5mm, 2.0mm, and so on.
Shape of galvanised steel pipe
The most common shapes we produce are galvanised round pipe and galvanized square pipe, in addition to galvanized rectangular steel pipe and oval galvanized pipe, as well as other irregular shapes to meet your project requirements.
What is the difference between hot galvanizing and cold galvanizing?
Description
What is hot dip galvanizing?
Galvanized steel pipe is a welded steel pipe with a hot-dip or electro-galvanized layer on the surface. Galvanizing can increase the corrosion resistance of steel pipes and prolong their service life. Galvanized pipes are widely used. In addition to being used as pipeline pipes for general low-pressure fluids such as water, gas, and oil, they are also used as oil well pipes and oil pipelines in the petroleum industry, especially offshore oil fields, and oil heaters and condensation pipes for chemical coking equipment. Pipes for coolers, coal distillation washing oil exchangers, trestle piles, and support pipes for mine tunnels, etc.
Why us?
We are a professional manufacturer and supplier of schedule 40 hot dip galvanized steel pipe.
Established in 2001 and headquartered in Tianjin, China, our company is an experienced and technologically advanced manufacturer of steel products. We specialize in producing high quality schedule 40 hot dip galvanized steel pipes, which are widely used in construction, engineering, energy, agriculture and other industries.

1. Customer oriented.
We are an OEM and ODM manufacturer with a professional multi-lingual sales team.
We have been selling our products globally for 18 years. Our technology can satisfy all of our customers' needs. And our sophisticated sales team can make your whole purchasing experience as simple and relaxed as it can be, from pre-sale to after-sale.  
One-stop service.
We have our own processing center for punching, flattening, bending, threading and other types of processing to provide one-stop service to our customers. 
2. Quality control.
TYT uses the industry's top steel pipe production line which is four times as expensive as our competitors'.
Our equipment can produce better quality and higher precision products. Our production line is twice as fast as an ordinary one and the specification tolerances are much smaller.  
We have our own factory and test center.
We can perform all necessary tests to ensure product quality, including chemical component analysis, mechanical property tests, technical property tests, and visual inspection.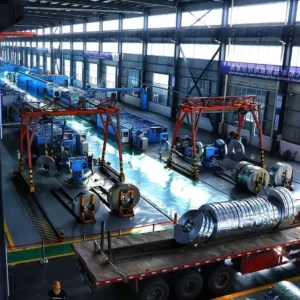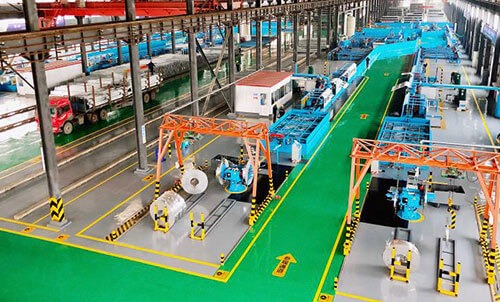 3. Cost efficient.
Excellent quality with a competitive price.
Thanks to our top-level equipment and our test center, we can produce high-standard quality in less time, which gives us an advantage in providing a competitive price for you.  
Safe shipping & fast delivery
1. We can load 20-25 containers per day. Our packing accuracy rate is 100%.
2. We have a well-equipped 24-hour transportation team to make sure that our customers get their orders on time.
Professional storage & packing.
We have an area of 20,000 square meters of fully-enclosed, clean, and tidy modern logistics storage and a well-trained packing team to ensure that our products are properly stored and packed.
You've read this far and must be interested in what we can do for you. Send an inquiry today! Maybe one day we can work together to make your business more profitable. Thank you in advance!
FAQs on Purchase and Import
TYTSTEEL has been supplying steel products for 20 years and we have encountered all kinds of problems,
here are the most important concerns of our customers before purchasing.
Are you a manufacturer?
Yes, We are an OEM and ODM manufacturer with a professional multi-lingual sales team. We have our own factory, which is located in TIANJIN, CHINA. We have been a leading power for 20 years in producing and exporting steel pipe, galvanized steel pipe, hollow section, galvanized hollow section, etc.
Do you provide samples?
Yes, we can provide a free sample of 20 cm length for free, and you can feel the quality of our products by paying the basic
shipping cost.

How can we get the offer?
Please offer the specification of the product, such as material, size, shape, etc. So we can give the best offer. If any
questions, please contact us freely by E-mail or Telephone.
Do you have quality control?
We have our own testing center. We perform all the necessary tests on a daily basis to ensure product quality, including chemical composition analysis, mechanical properties testing, technical properties testing, and cosmetic inspections.
Can I go to China to inspect the factory?
Of course, if you want to come to inspect the factory, our consultant will arrange the schedule for you. In addition, we support ZOOM videos for online factory inspection.
How soon will my order be delivered?
For regular-size products, we can guarantee delivery in as little as 3 business days. For OEM customers, our delivery time is typically 20-30 days.
How do i pay and payment option?
We usually accept 30% T/T deposit, Western Union, paypal and L/C at sight payment. For long-term customers, we offer negotiable payment options. After payment, our consultant will update the product progress in real time.
How to guarantee the product after sale?
We can guarantee the quality within 20 days after you receive the goods. If you find any defective products the first time, such as knocked flat, anti-alkali, rust, pipe mouth deformation, and other problems in transit, we will discuss the details of
compensation with you on a case-by-case basis.